Get active these school holidays!
Camp 1: Tuesday 14th April – Friday 17th April 2020 (4 days)
Camp 2: Monday 20th April- Friday 24th April 2020 (5 days)
Camp 3: Monday 27th April- (1 day)
Lunch can be ordered at reception before camp each morning. A free sausage sizzle is provided for lunch on Fridays of Camp
Program Overview
Our holiday programs run during all school holidays (including private school holidays) and staff development days so you can leave your kids with us for a day, week or a few weeks and rest assured they will play lots of tennis, sport and have lots of fun!!
The camp is aimed at children between 4 and 14 years old.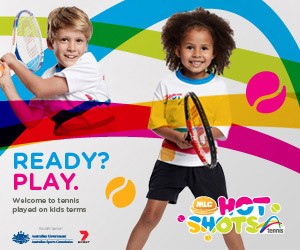 ---
Hot Shots Red Camp 4-7 years
Our camps include the use of a modified (red) court and red ball which allows the children of all skill levels to play the game
The children are also kept busy with a variety of gross motor and multi skills sports which are heaps of fun!!
---
Hot Shots Orange Camp 8-10 years
Also using a modified court and the orange ball, this camp allows children to play on a larger court with slightly faster tennis balls. It teaches new strokes, skills and strategies using techniques that allow easier understanding and rapid progress with an emphasis still on having fun and enjoying tennis!!
---
Hot Shots Green Camp 11 years +
This more advanced camp uses a full court and standard yellow tennis balls, with the emphasis on improving skills and strokes and match play.
---
Hot Shots/Excursions Camp 7 years +
Tennis conducted by professional coaches in graded groups, plus an excursion of your choice and round robin tournament on the final day!!!
---
Excursions
Excursions can change for different holidays, however regular excursions include: Bowling and Laser Tag, Movies, Swimming and Parkour gymnastics. It's a great way to break up the day for the kids!
The camp also includes:
Activities from 9am to 3pm
Before care available from 7:30am
After camp supervision 3pm – 6pm (includes organised ball games until 5pm)
Before care $10/After care $10
Professional coaches
SAUSAGE SIZZLE on Friday
Lunch orders available to order at reception each morning
Prizes, gifts and awards ceremony on last day
Free racquet hire
Early Discounts apply for FULL WEEK bookings!!
Optional FREE bus transport available. Buses pick up and drop off from and to:
Mosman Prep School (Shadforth St)
SCEGGS Redlands (Waters Road near Gymnasium)
St Aloysius Prep School (Bus stop on Carabella St, Opposite Burton St)
Ridge Street Tennis Centre (bottom of stairway to courts)
North Sydney Demonstration School (Bus Stop on Pacific Highway near McHatton St) (Return outside Union Hotel)
St Leonards Station (Pick up – Bus Stop on Pacific Hwy opp Herbert St.)
Lane Cove Aquatic Centre (Pick up – Little St bus stop) (Return – Lane Cove Library, Longueville Road)
 Please contact us for pick up and return times or see the camp form above.
GOLF HOLIDAY CAMPS
Catered for all abilities, the Lane Cove Junior Golf Camps cover all aspects of golf including; Full Swing, Chipping, Pitching, Putting, Bunkers, Putting, on Course Play, Rules and Etiquette.
All equipment is supplied
WHAT TO BRING:
Water/Sun cream/Hat/Lunch/Jumper/Light rain jacket
snacks for recess & afternoon tea/golf clubs if owned