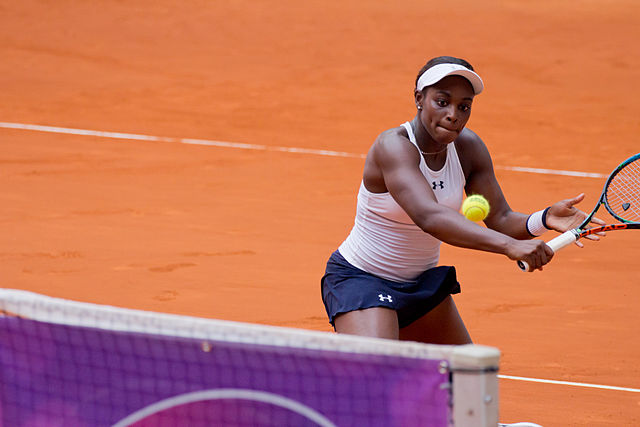 One of the upcoming players on the women's American scene is Sloane Stephens. Many players both female and male could benefit from watching video footage of how Sloane plays.
Modern Tennis Coaches have been influential in the development of Sloane at an early game, so her technique is pretty good.
In this blog we analyse Sloans game, and study what tips the budding student can learn from her game.
Forehand
Sloane hits her forehand with a big swing so her forehand can either be superb or a real weakness. Such a huge swing takes time and it makes it difficult to face fast balls. So facing an opponent like Sharapova would be really difficult for Sloane.
The flip side of this is when she gets it right she is capable of delivering phenomenal winners, with balls bouncing high off the court with a little topspin.
However, smart opponents see this flaw and hit fast serves and groundstrokes deliberately to her forehand to gain an advantage.
Backhand
Her double handed backhand is a very effective shot. She grips the racket well and her swing is short and compact. Delivering cross-court she hits a very steady ball, sometimes running around her backhand to hit big forehand shots. Her backhand down the line is extremely effective. She rarely hits slice backhands and is not a good exponent of this.
Volley
Unlike a great deal of women on the professional tour, Sloane loves to rush the net and finish points off. She has won three Grand Slam doubles titles as a junior which probably aided her net game.
Serve
He serve is also technically very good, with a fine fluid motion, perhaps this could be improved on with a little more power and speed. If you were to look for a fault on her serve it is her not turning away from the net when serving, this would help her generate more power.
Her second serve is not forceful enough against the top pro's and if Sloane is going to grow into a top senior player then she needs to improve this.
Sloane has tremendous physical strength and is a phenomenally gifted athlete with plenty of stamina and flexibility. Her physical prowess is her greatest weapon and will give her a great advantage over lesser players. Against most opponents she can compensate being on defense with her athleticism, but when she comes up against the top pro's this might not be enough.